Cigar news: Great looking stuff.
Keep smoking
| | |
| --- | --- |
| New post on Ministry of Cigars | |
| | |
| --- | --- |
| | |
HENK expands Cigarbone options with more colors and combinations. A few months ago, the German luxury company released a spectacular new travel humidor. The Cigarbone is a multifunctional watertight and airtight travel humidor which a dedicated slot of a Boveda pack and accessories. There is space for 6 cigars, separated in 2 compartments of three. The multi-functionality comes from the design. The Cigarbone itself is shaped in a way that it can double as a cigar holder. And the bottom cap of the Cigarbone doubles as a portable ashtray. The ashtray doesn't come in contact with the cigars. There is even space for lighters and cutters in the Cigarbone, without making it bulky. It makes it the most versatile travel humidor on the market.
The Cigarbone is nominated as the best accessory for Cigar Journal's Cigar Trophy, and as a very satisfied user of the Cigarbone, it will get our vote. Not dismissing the other nominees, but for its inventiveness, multi-functionality, and design, the Cigarbone deserves the award.
Colors
HENK has now added different colors to the options. Not just different leather colors for the bone itself, but also different color options for the ashtray and cap. That way, it is easy to customize the Cigarbone to your liking. With the colors black, blue, brown, white, red, yellow, green, stone, blue, and even a camouflage print, there are plenty of finishes to choose from.
The different options in ashtray and cap colors make unique combinations possible. If you're Irish, go for the green Cigarbone with white caps. Swedish cigar smokers can pick yellow and blue. Yellow with red is a perfect option for Spanish smokers. But three different colors are also an option. A white Cigarbone with one red and one blue cap or ashtray is the perfect combination for anybody from France, Luxembourg, or The Netherlands. Yellow, black and red is a good combo for Belgian and German cigar aficionados. Even a 24ct gold option is offered for the caps.
HENK is known for its luxury travel ware. All their items can be customized with different kinds of finishes and personal logos. HENK is possible to make one of a kind items. This is the case for the Cigarbone too. If you want a specific logo printed on the cap or embossed in the leather of the Cigarbone, that's all possible. Contact HENK, and they will make it happen.
New sizes
After the initial launch, HENK created two offsprings. The small, 3D printed Minibone for 2 cigars plus accessories. And the Cigarbone RT. Which is a carbon copy of the original Cigarbone, just for Toro sizes and smaller. But now there are options for the lovers of bigger ring gauges too. HENK will be releasing the Maxibone 70 soon. The Maxibone 70 fits two cigars up to a 70 ring gauge plus accessories. Plus the Minibone is now available in other colors as well.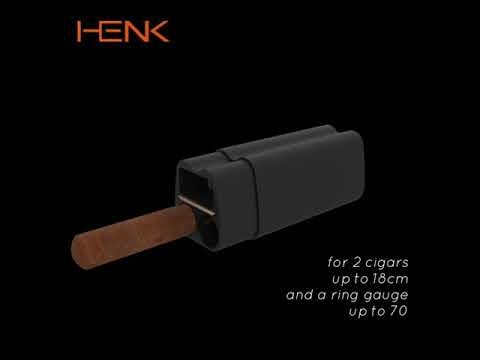 If that is not enough, HENK is also working on a Maxibone 80. This particular item is shaped differently. It's triangular and doesn't have space for accessories. Three cigars up to an 80 ring gauge fit in the Maxibone 80. Both the Maxibone 70 and the Maxibone 80 have integrated slots for Boveda packs.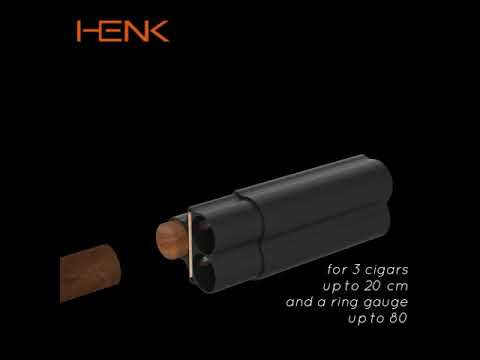 Cigartank
Another new item from HENK is the Cigartank. It is a carbon travel humidor for 4 cigars. Airtight with a slot of a Boveda pack. The cigars can be stored in the Cigartank with just one Boveda pack for 8 months and still be in perfect condition. And HENK wouldn't be HENK without customizations. A personal logo is possible, and even a vintage look can be made.