Cigar news : 
Our friends at Villiger are opening a stunning new cigar lounge in the Dominican Republic which  will be greeting visitors. The full details are in the press release. 
As Villiger is going all out with new highly rated premium blends, the lounge will be a welcome destination for cigar friends who may be in the D.R. for business or pleasure.
Date: March 14, 2018        
FOR IMMEDIATE RELEASE                                                     
Media Contact:
Gabriel Pineres| Liza M Santana
gpineres@creativasgroup.com lmsantana@creativasgroup.com
VILLIGER CIGARS OPENS SIGNATURE LOUNGE AT THE ABAM FACTORY, SANTO DOMINGO
(Miami, Florida) March 14, 2018— Villiger Cigars celebrating their 130 year Anniversary unveiled the first ever Villiger Lounge in the Americas. The ABAM Cigar Factory in Santo Domingo (manufacturer of all Dominican made Villiger cigars) is home base, to the first of a series of Villiger Lounges, to open in the near future.
The ABAM Factory owned by Jose "Matias" Maragoto worked closely with Villiger Chairman of the board Heinrich Villiger to create the Cigar Aficionado's 2017 number 10 ranked Villiger La Flor De Ynclan cigar. It was felt that the next evolution for Villiger Cigars was to express the "Villiger lifestyle" by way of signature cigar lounges in key markets. It is fitting that the flagship signature Villiger Lounge would be located, where the first ever handmade [premium] Villiger cigars were created over 20 years ago.
Rene Castañeda, President of Villiger Cigars North America said:" We at Villiger Cigars look forward to entertaining members of the media, friends, and colleagues at the Villiger Lounge at the ABAM Factory. We are in the midst of planning the initial Villiger Cigar Lounge and ABAM Factory tours which will commence in the near future."
Visitors can arrange an ABAM factory tour. This includes a walking tour of the facility, seven cigars, and drinks at the Villiger Lounge. The cigar selection includes Villiger's La Flor de Ynclan, La Libertad, Villiger 1888, and the Villiger Kreme.
To arrange a visit please contact:
Villiger Lounge
Abam Cigar Factory
Zona Franca Industrial de Villa Mella Nave #6
Buena Vista Primera
Villa Mella, Santo Domingo Norte, Dominican Republic
(809) 569-9494
www.abamcigars.com
ABOUT VILLIGER SONS LIMITED AND VILLIGER NORTH AMERICA:
Villiger Sons Limited was established in 1888 by Jean Villiger in the small town of Pfeffikon, Switzerland, where Villiger remains headquartered to this day. The company manufactures and sells more than 1.5 billion cigars annually, world-wide. Today, under the leadership of Heinrich Villiger, the company prides itself in its commitment to quality, in all their products made in many countries around the globe.
Follow the NEW Villiger Cigars North America on social @VilligerCigarsNorthAmerica #TheOriginalClassic
###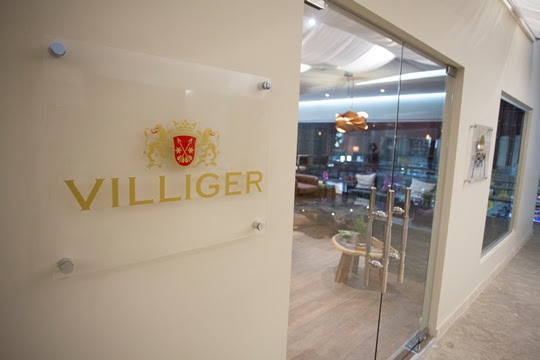 Mr. Heinrich Villiger enjoying the Villiger La Flor De Ynclan with daughter Corina Villiger at the Villiger Lounge
Jose"Matias"Maragoto with Mr. Heinrich Villiger